Located some 30 km or 45 minutes East of La Habana on the autopista called Via Blanca, you'll find this pleasant village, easternmost point of the Playas del Este (Beaches east of Havana), very popular (May to September) with Habaneros mostly during Summer. This area is part of the Ciudad de La Habana province or "Greater Havana".

West of here and part of the same stretch along the sea are the tourist-only areas of Tarara, Boca Ciega and Santa Maria del Mar (sort of micro Varadero, at 3 km). And then another nice playa, El Megano.

You won't find any casas particulares there, just mid-priced hotels and a couple of aparthotels with their "efficiency units", those all-equipped apartments, an option for prolonged stays. Still, casas would still be more affordable in the long run.

From El Megano going east, you are in Guanabo town per se with lots of casas for rent and no high-rise buildings which makes it more pleasant. You can get high at Mirador de Bellomonte (a bar and snack), off and up the Via Blanca at km 24.5.

The government has been trying for years to lure some snowbirds (retired Canadians) away from the Florida winter nests by offering a 6-month visa and affordable long term rentals in all-equiped apartment complexes such as Las Terrazas and Los Pinos locally; Islazul (see FYEYE below) offers some individual 1-to-5-bedroom casas all over Guanabo, some attractively-priced for couples sharing the casa (not each other). Oh, well...


DISTANCES
Bayamo, 705
Camagüey, 500
Ciego de Avila, 395
Cienfuegos, 200
Cojimar, 16
Holguin, 704
Jaruco, 35
Jibacoa, 40
La Habana, 25
Las Tunas, 628
Matanzas, 57
Pinar del Rio, 217
Sancti Spiritus, 319
Santa Clara, 233
Santa Cruz del Norte, 28
Santiago de Cuba, 842
Vinales, 250
Varadero, 95



Eladio Rivadulla [1923-2011]




RESTAURANTS
:::::: El Piccolo best Italian food around; even better, some claim, than Italian places in the capital El Cubano avenida 5 entre 456 y 458 : complex with muchos vinos de buenos paises (Boca Ciega) ::: Mi Casita de Coral : on main street near Washington, corner 8 : discreet with comida cubana such as preparations of beef, pork, chicken, fish and seafood (Santa Maria del Mar) ::: Mi Cayito (El Pelicano) : on the small pond named Itabo with fish, pork and seafood on a nice terrace from 10 to 6 (Santa Maria del Mar) ::: Pizzeria al Mare : very basic pizza in centre of Guanabo, ave 5/482 ::: Bodegon del Este (Boca Ciega) ::: Bim Bom (Guanabo) ::: La Goleta These two are closed : Ranchon Don Pepe and Pizzeria Mi Rinconcito

PALADARES Tropinini C, 5ª nº 49213 entre 492 y 494 Maeda (Quebec 115, e/476 y 478) which according to Footprint offers grilled fare on its open-air terraza as well as inside its aircon indoor dining area : meals 4-9cuc

TRANSPORTATION
::: Habana Bus Tour leaves Havana's Parque Central and ends here at some hotels in Playas del Este : 5cuc pp for the day. Schedule here. Stops at Villas Bacuranao, Tarara, Megano and hotels Megano, Tropicoco, Atlantico ::: Official taxis OK in Guanabo (7) 696-6666 (20cuc from downtown Havana) ::: Private taxis for 1 cuc per person (shared old car with 4-5 others ::: City Bus 400 leaves in front of Havana's Capitolio and runs along avenida 5 to the eastern end of town (where one can go to ensure a seat on its return to the capital) : fare 1 Cuban Peso or 4 cents

::: Hershey Electric Train daily departures from Havana's Casablanca station [tel (7) 862-4888] across Havana bay : 4h46, 8h35, 12h48, 16h38 and 20h46 arrival 25 km (and a couple of hours !!!) later : an unforgettable experience for about 80 centavos cuc. The station is in La Regla which can be reached by the passenger ferry (every 15 mins.) from Habana Vieja. Avoid weekends when it's packed; leaves Matanzas and goes by here on its way back around 10h30, 14h30 and 20h30; phone ahead in Matanzas before going to station :

:: Viazul bus service used to stop by here on its way to Varadero; it has not for years, unfortunately.

The playas del Este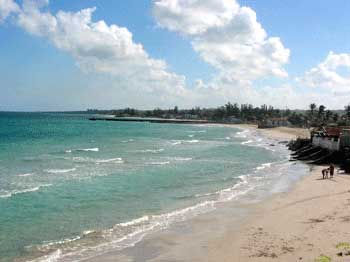 Playa Veneciana in Guanabo, only steps from Sol-Mar and Nancy Pujol's casas © sogestour •[• In summer, the three main local beaches "of the East" are packed with Habaneros fleeing the torrid city heat and humidity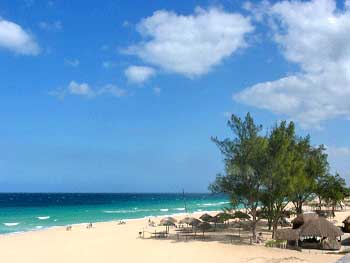 Playa El Mégano in Santa Maria del Mar — Map here [click] © sogestour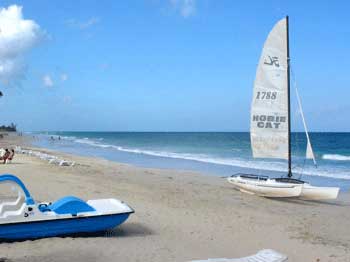 Playa Boca Ciega, between Guanabo and Santa Maria © sogestour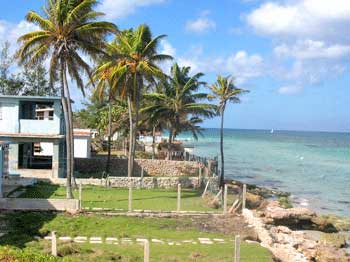 Casa Pujol's patio has palm trees and is right on the water. © sogestour See this map. It's under the last "E" (1RA) of the words Playas del Este © sogestour



From Valenciana beach, a Cuban offers rides on a Hobie Cat. On this day, it seemed overloaded riding a timid wind forecasting a long slow day ... © sogestour •]• One of the numerous casas rented by Islazul, some in quite deserted parts (in winter) of Guanabo : check a map before renting ; )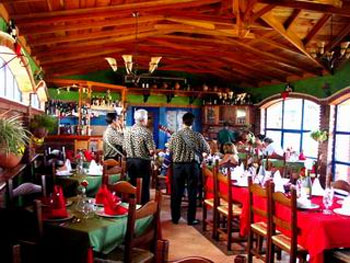 Installed in the Boca Ciega area, El Cubano is a multi dining room complex with different food fares, some in rooms with cloth table wear and musicians, kinda classy with honest food © unk

EVENINGS
::: Cabaret Guanimar, calle 468, angle 5 : outdoor shows at 23h 8-10cuc pp ::: Teatro Avenida, avenida 5 e/476 y 478 : popular in summer while in winter, it's teatro por niños ::: Cine Guanabo, calle 480 / ave 5 : showings starting at 17h3 ::: According to Lonely Planet, the local gay spot (Havana's gay community beach meeting place) is a beach bar named La Paté at calle 1 near Mi Cayito at the western end of Santa Maria del Mar.

FYEYE
::: The Islazul chain rents dozens of casas in the area. In summer, these are full of Habana familias; in winter some tourists may find these too basic (although very cheap), too quiet (Veneciana and Brisas de Mar are truly deserted) kinda humid and even cold when a windy "frente frio" hits; list here; photos here; tel (7) 832-0939 in La Habana

::: Tourist info Infotur ::: International Clinic on Avenida de Las Terrazas 36 in Santa Maria del Mar Tel (7) 796-1819

GUANABO HOTELS
::: Hotel Gran Via • Hotel Miramar ::: Villa Playa Hermosa SANTA MARIA HOTELS ::: Complejo Atlantico Las Terrazas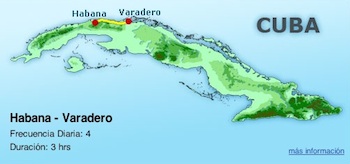 Twice per day
, a Viazul bus stops in Guanabo on its way (and back) to Matanzas, Aeropuerto de Varadero and Varadero —
Ruta 20
OUR RECOMMENDATIONS
::: Make sure that in your first email or phone call you specify that you want to book a room in that particular casa and that you will reconfirm your booking on arrival in Cuba. Unless you only want a room in any house which may be of the same quality, not the specific casa you booked through photos on these websites ::: So as to not abandon expecting owners with empty rooms, reconfirm (or call ahead to cancel) your booking by phone as soon as you can after arriving in Cuba ::: Please write or phone a casa owner to cancel a booking. As late as it may seem, it allows them a chance to rebook. ::: Children under the age of 16 may share a bedroom with adults for free. Specify the child's age when booking. ::: Since October 2010, maximum bedroom capacity is not limited to two adults ::: Also, large casas are not limited to renting only two bedrooms per night. ::: At the end of the casa name, the V signals the casa was suggested by travelers or owners but not verified by the website staff. If you try it and like it, write us about it. ::: Unless otherwise mentioned, the average room rates and service prices are : 20-25cuc per bedroom per night [up to 40+ for 4 in a room]; breakfasts 3-5cuc, dinners 7-10cuc. ::: Any casa particular anywhere in Cuba must have a hot water shower, otherwise it cannot have a permit to rent ::: Please share your Complaints, comments & suggestions webmaster [@]cubacasas.net