PHONES • PUBLIC, LAND LINES AND CELLS
Like everywhere else on the planet, cellular phones have replaced land lines in Cuba. Every kid (and house owner) wants one; it has become a household item and for many, a status symbol : 2 million cells in Cuba in the last two years, as of Dec. 31 2016.

HOW TO DIAL A CUBAN PHONE NUMBER

IN CUBA — FROM A CELL PHONE TO ANOTHER CELL PHONE :
Dial the 8 digits of the number (starting by a 5). Example, I call Etecsa's cell number 264 2266 Because it is a cell, it has the mandatory 5 before, ie 5264 2266

IN CUBA — FROM A CELL PHONE TO A LAND LINE PHONE :
0 + code of the locality ("area code") + phone number. Example, I call La Habana : 0 7 862-xxxx [Since 5 oct. 2013, no need to dial a "0" before the number.]

IN CUBA — FROM A LAND LINE PHONE TO A CELLULAR :
First, dial 0 from La Habana or 01 from anywhere else on the island then the 8 digits of the mobile (cell). Example, I am in La Habana and I call Etecsa's cell : 0 5264 2266 Example, I am in Santa Clara, and I call Etecsa's cell : 01 5264 2266

IN CUBA — FROM A LAND LINE PHONE TO ANOTHER LAND LINE PHONE :
0 + code of the locality ("area code" or codigo local) + phone number.

IN CUBA — FROM A CELL PHONE TO A PHONE OFF THE ISLAND :
119 or the plus (+) sign, then the country code then area (city) code (except if calling a cell) then the phone number. If the cell phone you are calling from is attached to a (your) cell phone service provider abroad (and not temporarily using Etecsa's services), this call could be relatively expensive, because there will be the inevitable "roaming" charges. Roaming rates for Cuba check here >ROAMING RATES PER PROVIDER PER COUNTRY<

FROM OUTSIDE CUBA TO A CELL PHONE IN CUBA :
• from Canada and the USA : the code to call out of the country 011 + Cuba's country code 53 + the 8 numbers of the Cuban cell phone starting with 5 + seven other digits; the cell phone owner does not pay for the call
• from Europe, the UK, Scandinavia and Mexico : the code to call out of the country 00 + Cuba's country code 53 + the 8 digits of the mobile (cell) starting with 5; the cell phone owner does not pay for the call

MORE INFO : call Etecsa, the Cuban phone company (53) 5264 2266 (this is a cell because, of course, it starts with a 5).
COMMUNICATING FROM CUBA ?!
• Post on Conner Gorry's blog here


CUBAN PHONE BOOK • ON THE WEB
Looking for a phone number in Cuba ? Try the officlal web site (slow connection ...) http://www.pamarillas.cu/ [Site being rebuilt as of December 2013.]
Apellido is last name, Nombre is first name.

PUBLIC PHONES • CALLING CARDS
You can purchase a pre-paid calling card that can be used in any blue public ETECSA (the national phone company) phone, located everywhere in Cuba on street corners, in hotel lobbies, and the ETECSA office you'll find in every major city and at the airport on arrival, usually at the same counter where they exchange money.

In Cuba, you can make calls from/to any specially-equiped public phone with the prepaid card. Two types of telephone calling cards are sold in Cuba. Either type shows one side with a picture of nature (or painting) and a gold micro-chip where the value resides. The other side has instructions on its use.

• Cards sold in cucs (Pesos convertibles) in values of 5, 10 and 20cuc are handy for both calls within Cuba (from 5 to 75 centavos depending on distance and time of day or night) and calls overseas (1,40 to 1,50cuc per minute depending on distance and service). These are used in a type of public phone with the card slot and value window at the top.

• Cards sold in Pesos cubanos (Moneda nacional) in values of 5, 10 and more are used in another type of public phone with the slot at the bottom.

When you insert either of these, the window shows the value remaining and you see it decrease as the call goes on. Cost is about 1,40 to 1,50cuc per minute (depending on distance and service) for calls overseas and only a few centavos for calls within Cuba.

These cards cannot be used in public phones which only accept Cuban pesos (Moneda nacional) in coins which are also everywhere in Cuba (usually, right by the Calling Card phones). Be advised that in small towns, there are no calling card phones so you should carry Cuban pesos in one-peso coins if you're traveling off the beaten path and, of course, you can't make overseas calls from a Cuban Pesos (Moneda nacional) phone, whether with a card or with coins.

• So, to recap, there are three types of public phones in Cuba : Peso coins only (local calls), Pesos convertibles calling cards (intra-Cuba and overseas calls), Pesos cubanos (moneda nacional) calling cards (local and intra-Cuba calls only).

• But wait, there's more ! There is yet another debit-type card (used by Cubans) which carries a code that must be dialed in before the number, the tarjeta de codigo personal propria. (Card using your own personal code.), for which owner dials 66 first, then the code.

• Bell Canada customer may still use the Canada Direct service which allows callers in Cuba dialing a number in Canada to charge the call to their Bell phone account. They have to dial 0800-22632 before the desired number.

• The so-called "reversed charges" service is still available by dialing 1 6969. The person you call pays for the call.




• Another new service has been made available in 2013, useful for family and friends abroad. Called AmundoCuba, an internationnal prepaid call card with a PIN, sold in increments of 5CUC (0 mins.) or 10, 20 up to 50CUC (117 mins) which comes to 0,42 to 0,50 centimes of Euros. More on this on www.amundocuba.com


PRIVATE PHONES • CALLING FROM A CASA
• If you're calling long distance within Cuba from a private casa, the owner is billed for the call and the cost is quite low. If you're going to make many inter-city calls, you can offer the owner a few pesos. Even local calls are charged as ETECSA stopped providing unlimited service in Cuban homes in 1995. Instead, it offers 300 minutes a month for a set fee with a per-minute charge after that.

• If you're making overseas calls from a casa in Cuba, a service called Salida Internacional allows the owner to dial the required phone number outside of Cuba using the 119 service and charge 1,40 to 1,50cuc per minute and add it to your bedroom bill.




CELLS - PROGRAMS
Mobiles (cells) in Cuba operate under the GSM (900 MHz) standard over most of the island except with the GSM (850 MHz) norm in La Habana, Varadero, Cayo Coco and Cayo Guillermo.

• Visitors can bring their own cellular phone and activate it for use in Cuba through CUBACEL at ETECSA boutiques .

• GSM per-minute rates vary from 26 to 40 US cents per minute within Cuba and do not require a monthly fee.

Calling outside Cuba to around the world costs about $1,40 (American continent) to 1,50US/minute. Roaming charges Cuban page >here<

• If you expect to make a lot of calls to Cuba from abroad it would be wise to rely upon a debit service (crediting it with a ... credit card) like the Irish ezetop.com (among others - list below) which sell you time for 99 cents a minute — and sometimes on rebate for 32 cents a minute during Holidays (as of Dec 2013). [Because of the embargo, Cuba's national phone companies (owned by the people — at least on paper ; ) has to go through third-party providers which accept US-issued Visa and Mastercard.]

More Cellular Use & Activation details on Cubacel here. cubacel @cubacel.com




CELLS - PREPAIDS
Their own cell phone (GSM types) to one of 376 point of sales and use the prepaid time method sold in increments of 10, 20 or 40US$ value in 50 locations in La Habana and in various locations in most provinces except Granma and Santiago).




Calls cost 20US cents per minute (10 cents from 11:00 PM a 6:59 AM) within Cuba — Etecsa FAQ here

To activate your cell, there are, like everywhere else on this planet, around the location of Etecsa offices, offers from cuenta propria permit holders (legal business permit) of private phone experts who can do the job faster than the Etecsa staff (where you have to wait a loooong time).

Most charge the same rate and do it on the spot. Believe you me, no Cuban cuenta propria wants to screw a traveler, unless he/she wants to be in a lot of trouble.

So trust these youngsters, they are honest and earnest.

Service activation costs 3US$ per day plus 36 to 60US cents per minute depending on time of day (8 am to 7:59 pm. for "Normal" rates and 8 pm to 7:59 am for "Reducido" rates).

• Another option is renting a phone for 6US$ per day, (Nokia, Siemens, Motorola, etc). You must add to that, the 3US$ per day activation fee and your calls cost 20US cents per minute (10 cents from 7:00 AM to 10:59 PM).

More on Prepagos and Rentals on Cubacel here.



CELLS - SMS
One advantage of buying a Cuban family member (friend or lover) a cell phone is being able to send text messages (SMS) to each other all the time. Since the service started in 2003, it costs 16centsUS for Cubans to receive messages (125 characters max.) originating in Cuba, as long as these Cubans pay a 9.95US$ monthly fee to Cubacel. On October 3, 2005, the Cuban Government and CUBACEL decided to raise the price for receiving/originating a text message to/from outside the country to 1US$ per message.

More on SMS messages on this Cubacel page here. cubacel @cubacel.com



SEND MONEY • THROUGH THE WEB

You can send money to a Cuban by using an Internet service which allows you to debit the amount from your credit card. You must register first, fax a photocopy of your passport and the company issues a card to the Cuban recipient who can use it in most large cities in Cuba to either withdraw the amount or spend it like a credit card in over 7,000 businesses on the island. Money sent by you is credited to the card within 24 hours in La Habana and within 10 days in other Cuban cities. Western Union offers the service in gazillions of towns around the world — at a stupendous cost.

TRANSFER FUNDS • FROM A BANK ABROAD

Transfer funds to the Banco Popular de Ahorro in La Habana through the National Bank in Canada or the Havana International Bank or the HSBC in London (UK), the Dresdner Bank AG in Frankfurt, etc. Same process for fund transfers to an account at the Banco Metropolitano in La Habana from banks abroad. Notes
here
.
From 432 wi-fi zones (as of Oct 2017), number have gone up to 635 available wifi zones by Etecsa (Nauta's parent company) all over Cuba, mostly on pedestrian streets named bulevar, or in parks.

For 1 cuc per hour (as of Nov 1 2017), available from Etecsa (Nauta, Telepunto, etc) offices in all major towns, users get a scratchcard revealing a password to be entered on the user's smartphone, tablet or portable computer valid for 30 mins., one hour or 5 hours to be used over the next 30 days. Rate is 10 centavos (10 cents) per hour for national connections. [Cost is 1,50 cuc from scalpers who hang around spots or near the long waiting lines at Etecsa offices selling these Nauta cards.]

As of March 2018, there were 635 wifi zones + 655 Internet connection points on the island including wired Internet offices (Salas de Navegacion), computer clubs, hotels and airports available to visitors and citizens alike. See map below.

Since the start of wifi in 2013 to late 2016, some 11.2 million Internet wifi cards were purchased in Cuba.



Best blog about Internet in Cuba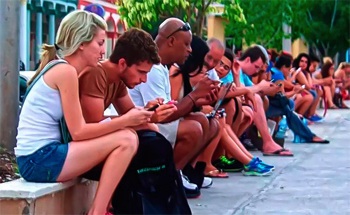 List of 635 wi-fi spots (1 cuc per hour) as of February 20, 2018
From updates on Etecsa.cu here + Directorio Telefonico here + norfipc here ...

LA HABANA 101

HABANA VIEJA - PAGE
• Plaza del Cristo - Habana Vieja
• Bar El Floridita - Habana Vieja
• Hotels Ambos Mundos, Florida, Meson de la Flota, San Miguel - Habana Vieja
• Hotels Inglaterra, Parque Central, Plaza, Saratoga, Sevilla - Habana Vieja/Centro
• Paseo del Prado, e/Malecon y Parque central - Habana Centro / Vieja

HABANA CENTRO - PAGE
• Calle San Rafael (Bulevar peatonal) - Habana Centro
• Malecon e/Galiano y Blanco : Hotel Deauville - Habana Centro
• Malecon e/Industria y Crespo : Taberna Castropol - Habana Centro
• Malecon e/Manrique y Perseverancia : Zona Abadia - Habana Centro
• Malecon e/Prado y Carcel : Centro HispanoAmericano - Habana Centro
• Parque Carlos Marx (Carlos III y Belascoain) - Habana Centro
• Parque de Trillo (San Rafael, San Miguel, Aramburu) - Habana Centro
• Parque Fe del Valle (Galeano y San Rafael) - Habana Centro
• Parque Infanta y Salud - Habana Centro
• Paseo del Prado, e/Malecon y Parque central - Habana Centro / Vieja

HABANA VEDADO/PLAZA/CERRO - PAGE
• Malecón e/Paseo del Prado y Hotel Riviera - Habana Vedado
• Calle G y Malecon - Habana Vedado
• La Rampa (avenida 23), e/Malecón y Ciné Yara - Habana Vedado
• Cacsa - La Rampa (ave 23) - Habana Vedado
• Casa de las Americas, calle 3ra, esq. G - Habana Vedado
• Centro Tecnologico Hola Ola (Malecon, esquina 25) - Habana Vedado
• Cimex Sol y Mar, Malecon e/Primera y B - Habana Vedado
• Cupet, ave 23 (La Rampa) y Malecon - Habana Vedado
• El Castillito Centro Recreativo, calle 1ra, e/10 y 12 - Habana Vedado
• ICRT (Radio & TV) La Rampa (ave 23) - Habana Vedado
• Pabellon Cuba, La Rampa (ave 23 y N) - Habana Vedado
• Parque Abel Santamaria Cuadrado, calle 25 y O - Habana Vedado
• Parque Clandestinidad (25 esq. 32) - Habana Vedado
• Parque Coppelia - Ciné Yara - Habana Vedado
• Parque La Piragua (calles O y 19, Malecon) - Habana Vedado
• Parque Lennon (esq. 15 y 17) - Habana Vedado
• Parque Linea y L - Habana Vedado
• Parque Linea y H - Habana Vedado
• Parque Wilfredo Lam (esq. 13 y 14) - Habana Vedado
• Parque Palatino + Estadio Latino Americano + Parque Manglar (Van Troi) - Cerro - Habana Vedado
HABANA MIRAMAR/PLAYA - PAGE
• Balneario Universitario 1ra y 42 - Habana Miramar/Playa,
• Centro comercial Flores - Habana Miramar/Playa
• Centro de negocios Miramar - Habana Miramar/Playa
• Centro multiservicios Miramar - Habana Miramar/Playa
• KCHO Estudio Romerillo Laboratorio - Habana Miramar/Playa
• Palacio de Convenciones - Habana Miramar/Playa
• Parque 13 y 76 - Habana Miramar/Playa,
• Parque Coyula (calles 30 y 19) - Habana Miramar/Playa,
• Parque Flores - Habana Miramar/Playa
• Parque Genetica - Habana Miramar/Playa
• Parque Juan Manuel Marquez - Habana Miramar/Playa
• Parque Lazaro Cardenas (Kohly) - Habana Miramar/Playa
• Parque Nautico - Habana Miramar/Playa
• Parque Rincon Martiano - Habana Miramar/Playa
• Recinto Ferial Pabexpo - Habana Miramar/Playa
• Teatro Karl Marx - Habana Miramar/Playa

ALAMAR, HABANA DEL ESTE
Parque Hanoi + Centro Cultural + Centro comercial El Progreso

ARROYO NARANJO
• Pabellones Central + Pabellon 14 - Expocuba (Parque Lenin)
• Centro equestre - Parque Lenin, Arroyo Naranjo
• Parque Santa Amalia - Arroyo Naranjo
• Parque Isabel Sofia Parraga - Arroyo Naranjo
• Parque Caballero y Pizarro - Arroyo Naranjo
• Parque Aristides Viera, reparto Electrico - Arroyo Naranjo
• Parque de la Leche (Caballero e/Ponce de Leon y Pizarro) - Arroyo Naranjo

BOYEROS
Parque Rio Cristal + Parque Wajay + Parque Lugardita + Parque de Calabazar + Parque José Martí (Santiago de las Vegas) + Parque de la Iglesia (Managua)

COTORRO
Parque 9 de Abril + Parque de Santa Maria del Rosario

10 DE OCTUBRE
Parque Mónaco (Acosta y Mayia Rodriguez) + Parque Lawton (calle B y 8) + Parque Cordoba + Parque Asuncion

GUANABACOA
Parque Martires de la Jata (Central) + Parque Viondi + Parque consejo popular La Gallega + Parque Nestor Aranguren (El Machaco) + Parque infantil Santa Fe + Parque infantil Dbeche

GUANABO - PAGE, HABANA DEL ESTE
Parque Guanabo + Rotonda

HABANA DEL ESTE
• Complejo Morro Cabana + Hospital Naval Luis Diaz Soto, Habana del Este,
• Parque principal, Campo Florido
• Parque de las Madres, Regla
• El Paseo (e/5ta C y 5ta D), Villa Panamericana

LA LISA
Parque de 51 + Punta Brava + Centro comercial 31 y 240 (San Agustin) + Parque Cano + Parque Calle Grande

MARIANAO
Parque 51 y 76 (Ave 51, e/ 202 y 204 - Hospital Frank Pais) + Parque 118 Anfiteatro (Calle 49, e/120 y 122) + Anfiteatro de Marianao + Hospital militar

SAN MIGUEL DEL PADRON
Parque José Marti + Parque de Los Chivos (Manuel Ascunse) + Parque la Curva




PINAR DEL RIO PROVINCE 68
CAPITAL PROVINCIAL • PINAR DEL RIO - PAGE
Parque Colon + Parque Independencia + Parque Roberto Amarán + Parque San Luis + Paseo Calle Martí + Parque Martí + Parque Montequín + Parque Las Ovas + Centro Comercial Alameda + CIMEX La Cristal + Centro Recreativo Super Gol + Centro Recreativo Criollo + Centro Recreativo Rumayor + Parque Hospital Pediátrico
• VIÑALES - PAGE
Parque José Marti + Parque Marina Azcuy + Cafeteria Las Cubanitas + El Palenque + Bar de Tapas + Restaurante Las Brisas + El Moncada
• Alonso Rojas : Parque principal
• Consolacion del Sur : Parque Antonio Maceo
• Cortes : Parque principal
• Guanabacoa : Parque Centro Comercial
• Guanes : Parque 26 de Julio + Parque Isabel Rubio
• Hermanos Cruz : Cafetería CIMEX + Parque centro comercial + El Renacer
• Herradura : Parque principal + Parque Entronque
• Minas de Matahambre : Restaurante y Área El Cobre
• Mantua : Cafeteria CIMEX y Parque arroyo + Parque Dimas
• La Palma : Restaurante y parque principal + Parque San Andrés
• La Coloma : Parque principal
• Las Martines : Parque principal
• Los Palacios : Pizzería 23 y 24 y Parque Los Palacios + Parque San Diego + La Guira
• Pilotos : Parque principal
• Pueblo Nuevo : Parque principal
• Puerta de Golpe : Parque principal
• PUERTO ESPERANZA - PAGE : Parque principal
• Quemado : Parque principal
• SAN DIEGO DE LOS BAÑOS - INFO : Parque principal
• Sabalo : Parque principal
• San Juan y Martinez : Cafeteria la Esquinita + Parque Martín Herrera
• Sandino : Parque Centro Comercial + Parque Manuel Lazo
• San Luis : Parque principal
• Santa Lucia : Parque principal + Emincar + Parque viejo
• Sumidero : Parque principal
• Teneria : Parque principal



ARTEMISA PROVINCE 22
CAPITAL PROVINCIAL • ARTEMISA
Bulevar (peatonal) + Parque de la Iglesia

• Alquizar :
Parque municipio
• BAHIA HONDA - INFO :
Casa de la Cultura + Parque/Pizzeria
• Bauta : Parque principal + Restaurante El Cochinito

• Caimito :
Parque principal
• Candelaria :
Parque central
• Guanajay :
Parque central
• Guira de Melena :
Bulevar (peatonal)
• K59 (kilometro 59 autopista) : Complejo gastronomico
• MARIEL - INFO: Parque central
• San Antonio de los Banos : Parque central
• San Cristobal :
Coppelia Helados



MAYABEQUE PROVINCE 24
CAPITAL PROVINCIAL • SAN JOSÉ DE LAS LAJAS
El Bulevar (peatonal) + Cafeteria las Ruinas + Tienda el Samurai + Parque Camilo Cienfuegos + Parque Tapaste

• Batabano : Parque central
• Bejucal : Parque Bejucal
• Güines : Parque de Guines + Parque Catalina
• Jaruco : Parque de Jaruco
• Madruga : Parque central
• Melena del Sur : Parque central
• Nueva Paz : Parque central
• Quivican : Parque de Quivican
• San Nicolas de Bari : Parque San Nicolas
• SANTA CRUZ DEL NORTE - INFO : Parque central + Malecon




MATANZAS PROVINCE 42
CAPITAL PROVINCIAL • MATANZAS - PAGE
Paseo de Marti + Parque La Libertad + Parque Guanima + Parque Catedral + Parque Peñas Altas + Parque René Fraga + Parque Recreativo Monserrate + Asociación Cultural Artesanos + Cafetería Plaza La Vigía + Centro de Artes Escénicas + Centro tecnologico Narvaez

• Calimete : Parque del municipio
• CARDENAS - PAGE : Parque José Antonio Echeverría + Plaza las Morlas
• Colon : El bulevar (peatonal)
• JAGUEY GRANDE - PAGE : Parque central
• Jovellanos : Parque central
• Limonar : Parque central
• Los Arabos : Parque central
• Marti : Parque central
• Pedro Betancourt : Parque municipio
• Perico : Parque municipio
• PLAYA GIRON - PAGE : Parque municipio
• PLAYA LARGA - PAGE : Parque municipio
• Union de Reyes : Parque municipio
• VARADERO - PAGE : Centro convenciones Plaza America + Complejo Todo por Uno (shopping)



VILLA CLARA PROVINCE 40
CAPITAL PROVINCIAL • SANTA CLARA - PAGE
Parque Leoncio Vidal (parque central) + Plaza de la Revolución Ernesto Guevara + Parque de los Mártires + Parque de los Framboyanes + Estadio Augusto César Sandino + Reparto José Marti

• CAIBARIEN - PAGE : Parque principal
• Camajuani : El bulevar (peatonal)

• Cifuentes : Parque central
• Corralillo : Parque central
• Encrucijada : Parque central
• Manicaragua : Parque central
• Placetas : Parque principal

• Quemado : Áreas Policlínico Municipio
• Ranchuelo : Parque central
• REMEDIOS - PAGE : Parque central

• SAGUA LA GRANDE - PAGE : Parque central
• Santa Domingo : Parque central



CIENFUEGOS PROVINCE 23
CAPITAL PROVINCIAL • CIENFUEGOS - PAGE
Parque central
Parques Martí + Bulevar (peatonal) + Parque Villuendas + Parque Imago + el Rápido de Punta Gorda

• Abreus : Prado
• Aguada de Pasajeros : Paseo del Prado + Ranchon
• Cruces : Parque central

• Cumanayagua : Bulevar (peatonal)
• Palmira : Parque central
• Rodas : Paseo del Prado
• Santa Isabel de las Lajas : Parque central

SANCTI SPIRITUS PROVINCE 27
CAPITAL PROVINCIAL • SANCTI SPIRITUS
- PAGE
Parque Serafín Sánchez + Plaza Cultural Yayabo + Paseo Colon + Complejo Gastronómico Mar Cielo + Complejo Gastronómico Pio Lindo

• Cabaiguan
:
Parque principal + Paseo
• CASILDA - PAGE : Paseo
• Fomento : Parque principal
• Jatibonico : Paseo

• La Sierpe : Parque principal

• Mayajigua : Parque principal
• Taguasco : Parque principal
• TRINIDAD - PAGE : Parque Céspedes (Carillo) + Casa de la Musica (Escalera)
• Yaguajay : Parque principal

CIEGO DE AVILA PROVINCE 25
CAPITAL PROVINCIAL • CIEGO DE AVILA - PAGE
Parque Martí + Paseo Calle D + Paseo Jicotea + Paseo Ceballo + Parque Máximo Gómez + Estadio José Ramon Cepero
• Chambas : Paseo
• Ciro Redondo : Parque Sergio Antuña
• Florencia : El Bulevar (peatonal) -
• Majagua : Parque Marti
• MORÓN - PAGE : Parque Moron + Parque de las Madres
• Primero de Enero : Parque Marti
• Venezuela : Centro Cultural Auraca

CAMAGUEY PROVINCE 31
CAPITAL PROVINCIAL • CAMAGUEY - PAGE
Centro Recreativo Casino Campestre + Parque Agramonte + Parque 28 de Septiembre + Parque del Amor + Plaza del Gallo + Plaza de los Trabajadores + Callejon de los Milagros + Centro Tecnológico + Recinto Santa Cecilia + Complejo Lago de los Sueños + Cafetería El Legandario + Complejo Mercado La Caridad

• Carlos Manuel de Cespedes : Parque Céspedes
• Esmeralda : Parque Esmeralda
• FLORIDA - INFO : Parque principal + Asociación Hermanos Saiz
• GUAIMARO - PAGE : Parque principal
• Jaronú : Parque Batey + IPS-Turismo-Brasil
• Jimaguayu : Parque municipal + Parque Etecsa
• Minas : Parque central
• Najasa : Parque principal
• NUEVITAS - PAGE : Parque Maceo + Parque Cañon
• SANTA LUCIA PAGE : Plaza Residencial
• SANTA CRUZ DEL SUR - PAGE : Parque principal
• Sibanicu : Parque central
• Sierra de Cubitas : Parque Sola Sierra
• Vertientes : Parque Vertientes + Parque central



LAS TUNAS PROVINCE 35
CAPITAL PROVINCIAL • LAS TUNAS - PAGE
Plaza Martiana + Parque Antonio Maceo + Complejo las Antillas + Tanque de Buena Vista + Parador El Cornito + Ranchon La Arboleda + reparto Casa Piedra + Zona Edificio 12 Plantas
• AMANCIO - PAGE : Parque las Madres
• Colombia : Parque las Madres
• Guiteras : Parque Antonio Guiteras
• Jesús Menendez : Parque Menendez + Parque El Palin
• Jobabo : Parque José Martí
• MANATI - INFO : Parque Manati
• Majibacoa : Parque Francisco Vega + Parque Las Parras + Parque Omaja
• PUERTO PADRE - PAGE : Parque José Martí + Emiliano Salvador + Cremeria El Rapidito
• Vazquez : Parque José Martí



HOLGUIN PROVINCE 50
CAPITAL PROVINCIAL • HOLGUIN - PAGE
Parque Julio Grave de Peralta + Bulevar Holguin + Terminal Viazul + Los Framboyanes + Parque infantil Rubén Bravo + Parque 1ro de Enero + Parque Plaza La Central + El Quijote + Parque San José + Loma de la Cruz + Club Bariay + Hospital Lenin + Ciencias Médicas + Reparto Emilio Barcenas + Sitio Viviensas Militares + Reparto Villanueva + Patana Mayabe + Parillada Mayabe + Parque clinica Manuel Anguillo + Expo Holguin + Aeropuerto Frank Pais
• Alto Cedro : Parque principal
• Antilla : Parque principal
• Arroyo Seco : Parque principal
• Baguanos : Parque Tacajó + Mercado industrial Tacajó
• BANES - PAGE : Parque principal + Los Framboyanes + Deleyte + Parque el Bosque
• Cacocum : Ciné Antonio Maceo
• Calixto Garcia : Estadio Calixto García + Parque Calixto García + Bulevar Buenaventura
• Cueto : Parque principal
• Felton : Parque Felton
• Frank Pais : Parque principal
• Levisa : Tienda el Minero
• GIBARA - PAGE : Plaza de la Cultura + Parque Uñas
• Guaro : Plaza
• MAYARI - INFO : Joven Club + Parque Mayarí + Parque Guatemala + Hotel 90 Habitaciones
• Moa : Parque las Auroras
• Rafael Freyre : El Bulevar + Plaza Pesquero
• Sagua de Tanamo : Sitio + Calabaza + Naranjo Agrio
• Urbano Noris : Bulevar San German
• Velasco : Correo
GRANMA PROVINCE 67
CAPITAL PROVINCIAL • BAYAMO - PAGE
Bulevar (peatonal)/Parque Céspedes + Parque del Amor + Parque los Coches + Plaza de la Patria + Parque Novedades + Parque Ciro Redondo + Parque LatinoAmericano + Parque El Horno + Parque Poligono + Retablo de los Héroes + Campamento Chapuzon + Reparto Valle

• Bartolomé Maso : Parque principal + Sitio Caney Mercedes
• Buey Arriba : Parque principal + Plaza San Pablo Yao + Parque Bueycito
• Campechuela : Parque 24 de Febrero + Parque San Ramon
• Cauto Cristo : Parque principal
• Guisa : Parque Calixto García
• Jiguani : Parque principal + Parque Santa Rita
• MANZANILLO - PAGE : El Bulevar (peatonal) + Malecon + Parque ICP + Parque Valle Espin
• Media Luna : Parque principal
• Niquero : Parque Ricardo de Céspedes
• PILON - INFO : Parque principal
• Rio Cauto : Parque principal
• Yara : Parque principal

SANTIAGO DE CUBA PROVINCE 43
CAPITAL PROVINCIAL • SANTIAGO DE CUBA - PAGE
Paseo Maritimo La Alameda + Parque Céspedes + Parque Ferreiro + Plaza de Marte + Centro Tecnológico Enramadas + Centro EGREM Alegremonos + Cafeteria ON
Reparto Versalles : Areas Supermercado + Centro Multiservicio + Caguayo (Galeria René Valdès Cedeno)
Reparto Vista Alegre : Parque
Reparto San Luis :
• Baire : Parque principal
• Contramaestre : Parque principal
• Cruce de los Banos : Areas cine III Frente
• Enramadas : Centro tecnologico
• Guama : Parque Chivirico
• Julio Antonio Mella : Areas Emisora Radio Titan
• Mella : Emisora Radio Titan
• Palma Soriano : Parque principal
• San Luis : Parque San Luis
• Segundo Frente Oriental : Biblioteca Enma Rosa Chuy
• SIBONEY PLAYA - PAGE : Restaurante
• Songo La Maya : Parque La Maya



GUANTANAMO PROVINCE 28
CAPITAL PROVINCIAL • GUANTANAMO - PAGE
Parque Marti + Parque Maximo Gomez/Centro Comercial Caribe + Complejo Comercial Reparto Obrero

• BARACOA - PAGE : Parque central
• Boqueron : Area
• Caimanera : Parque central
• Costa Rica : Parque principal
• El Salvador : Parque central
• Imias : Parque principal
• Manuel Tames : Parque central
• Niceto Perez : Parque central
• San Antonio del Sur : Parque principal
• Yateras (Palenque) : Parque central

ISLA DE LA JUVENTUD 9
CAPITAL PROVINCIAL • NUEVA GERONA - PAGE
Bulevar (peatonal calle Marti) + Parque Cotorras (parque Estudiantes),
• La Fe : Parque Cine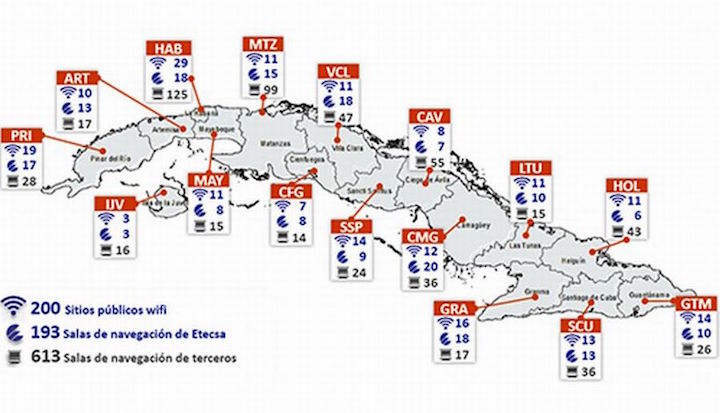 Click to enlarge
Most consulted web sites by Cuban wi-fi users :