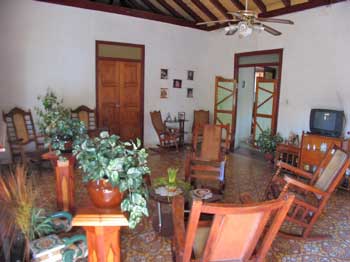 Lourdes and hubby Juan have been renting since 1997.

A large living room with lots of rockers opens on narrow balcony to the street; then appear the dining room and kitchen (from which is the owners' bedroom) and the patio with a narrow stair to rooftop and doors to both bedrooms.

Off the patio, two large bedrooms (one enormous shown below with two doubles and a single, without a/c), the other with a double and single; each with its own modern bathroom, table, chairs and fridge and lots of clothes hanging space.

Views from rooftop terrace.
Rates : 20-25cuc per night for bedroom.