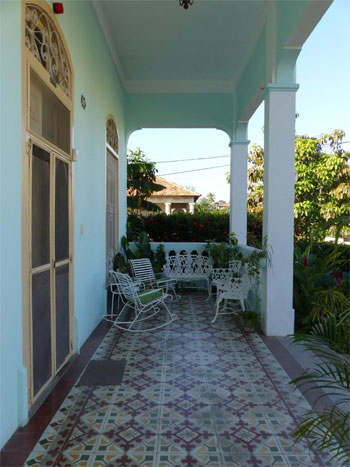 In this large and imposing colonial with its majestic columned facade, its fenced and flowery arched entrance one has the feeling of entering a fairy tale house.

The charming couple (Pedro, Mechanical Engineer; Maydeline, a Psychologist) rent two, lovely and large air-conditioned bedrooms with period furniture, each with ensuite bathrooms.

The house boasts original furniture and decorative pieces, superb decoration, whether in the living or dining areas, rooms which an antique lover would enjoy taking home, lock, stock and chandelier ; ). Photos are free.

In the back, a flowery garden cum patio and in front a quiet and shaded balcony with tables and recliners complete this exceptional particular which has to be one of the most inviting in town.

Rates : 25cuc per night per bedroom; breakfasts 3cuc; no other meals served.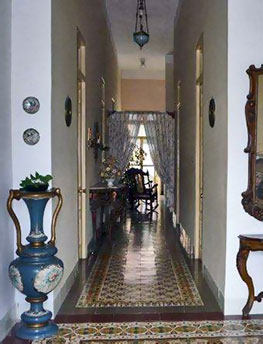 "We stayed three nights at Casa Gallart, and were very impressed with both the home and the hospitality.

"We loved the neighborhood and location. It is an easy 20 minute walk into the heart of Santiago de Cuba. There are great restaurants nearby, which Pedro (who is fluent in English) recommended.

"The room was quaint and the architecture and decor had a very regal feeling. Pedro was an exceptional host, arranging for an early-morning taxi and making a point to see us off, even though the sun had yet to rise.

"The breakfasts were among our favorite, with the freshest fruit and bread, rich coffee and perfectly cooked eggs with fresh herbs.

"Casa Gallart is the whole package, and a real treat for anyone looking to escape the hectic atmosphere of Santiago!" LnP, Calgary, Canada 15.04.17, tripad visor