Founded by Diego Velazquez in 1514, the city was one of seven in Cuba to be colonial outposts of the Spaniards. Birthplace of the guayabera, its location along the Yayabo river, made it perfect for agriculture and sugar exploitation.

The ciudad fell to the hands of pirates in 1665, was long forgotten by the rest of the world until it became the capital of the province in 1976.

Its third life began in the third millenium when tourist development was finally implanted with major hotel renovations and the coming of Cuba's two major tour operators in its centre, the Plaza Serafin Sanchez.

MAPS & LINKS

Sancti Spiritus City Map
Map & Guide - Architecture & Landscape : 63 sites
Larger City of Sancti Spiritus Map
Large regional map around the city
Large map of center of the island's three provinces
National train schedule
Island-wide bus connections (horariodebuses.com/)
Weather (Wunderground)

Daily exchange rates

All that's natural in Sancti Spiritus province
Viazul bus from Trinidad through here : Ruta 25
DISTANCES
Cabaiguan, 24
Camaguey, 184
Casilda (Trinidad), 73
Ciego de Avila 74
Cienfuegos, 145
El Cacahual, 20
Guayos, 15 (rail junction)
Holguin, 392
La Boca (Trinidad), 75
Playa Giron, 235
Remedios, 90
Santa Clara, 85
Santiago, 515
Topes de Collantes, 84
Trinidad, 69
Zaza (the lake), 10



POPULATION 135,545 in regional municipio (2007)

SEE.KNOW.DO
• Museo de la Guayabera (Casa de la Guayabera) located in the old Quinta de Santa Elena by the Yayabo river with more than 200 models of the official clothing of Cuba. Many Cubans have shied away from the guayabera because they care only to remember the thousands of agressive bodyguards of the Pope (during his 1998 visit) all wore the white long-sleeved shirt and dark sunglasses • Biblioteca Provincial Rubén Martínez Villena • Fundación de la Naturaleza y El Hombre • Galeria de Arte • Farmacia Colonial (Maximo Gomez 40) • Iglesia Parroquial Mayor del Espiritu Santo • Museo de Arte Colonial (in Palacio built in 1744 : worth the 2cuc entrance) • El Lyceo (first school for "coloured people", 1859) • Museo de Historia Natural dedicated to Jimenez, the reat Cuban explorer • Museo Provincial • Plaza Serafín Sánchez • Puente Yayabo (large 5-arch bridge, 1815) on the shores of which the national garment of Cuba, the Guayabera (ample long-sleeved shirt with pockets), was born • Teatro Principal

EXCURSIONS
Lake (Laguna) Zaza, 10k away : trout fishing (International contest each September), bird watching, hotel Zaza swimming pool.

RESTAURANTS
Hostal del Rijo (the hotel's very nice terrace overlooking the small Parque Honorato), El Conquistador, Agramonte 52 (lovely building, great fare), El Méson de la Plaza Maximo Gomez 34 (great food, lovely colonial setting), Quinta Santa Elena, Padre Quintero (Cuban food, music, shows)

PALADARES El Sotano, calle Eduardo Chivas, e/26 de Julio y Jesus Menendez 11h-24h Eat by the river (payable in pesos cubanos)

MERCADO The outdoor market is on Erasmo Valdes

SERVICES
Daily Internet connection open 8h30-19h30 at Telepunto (Independencia Sur No. 10 - the pedestrian street — e/ Cervantes y Honorato del Castillo Also : • Hotel Plaza, calle Independencia, corner Avenida de los Mártires 9h-22h Hotel Zaza: Carretera central Km 8, 17h-23h • • Aeropuerto 27-584, Havanautos 26-390 Medical 240-17 Radio Sancti Spiritus 1200AM, 97,3FM Transautos 271-02 • Hostal del Rijo (nice old and renovated 16-room hotel, doubles or singles for 40-60cuc) on Plaza Honorato. Was the residence in 1818 of local famous doctor Don Rudesindo García Rijo; best room is facade, no 5 with balcony; rooms in back are quiet but dark. • Yoga Instructor : Paez tel. (41) 33-2581

EVENINGS
Casa de la Cultura (Parque Central) • Casa de la Trova Miguel Companioni on Maximo Gomez Sur #26 • (Maximo Gomez 26) • Casa de la Musica (behind Museo de Arte Colonial) • Quinta Santa Elena, Padre Quintero (meals, music, shows) • Cinemas : Conrado Benítez, Serafin Sanchez Discoteca Habana Club • Baseball : Estadio A Huelga

TRANSPORTATION
Bus Viazul : see link above (tel. 241-42) • Viazul bus from Trinidad through here : Ruta 25; also Habana Holguin going through here : Ruta 16.
Fares : Bayamo (21cuc), Camaguey (10cuc), Holguin (21cuc), La Habana (23cuc), Las Tunas (17cuc), Santa Clara (6cuc), Santiago (28cuc), Trinidad (6cuc), Varadero (16cuc) Trains • see link above (tel 247-90)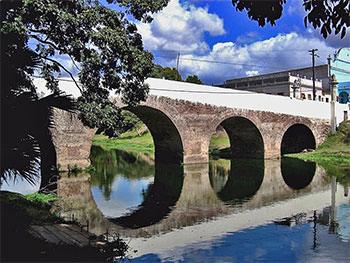 Yayabo bridge a UNESCO World Heritage site over the river recently depolluted © inder.co.cu •}• Plaza Serafin Sanchez one of the nice town parks, taken before the church was painted blue (see below) © unk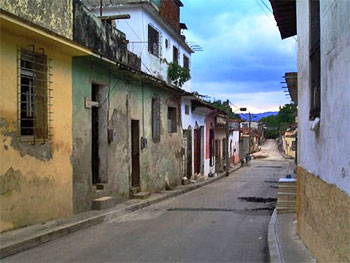 Calle cerca iglesia, a narrow and colorful street down from the church © eyanex panoramio •}• Parque Central, casa de la cultura © unk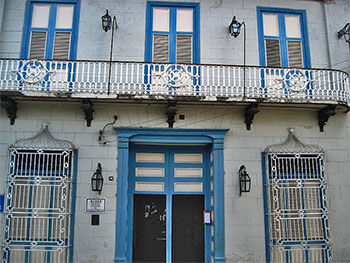 Museo de Arte Colonial © unk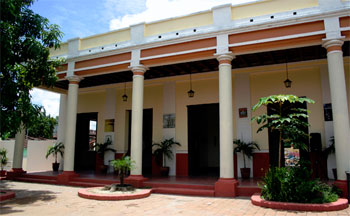 Museo de las Guayaberas © carlos rodriguez bua •}• Typical narrow cobblestoned street © unk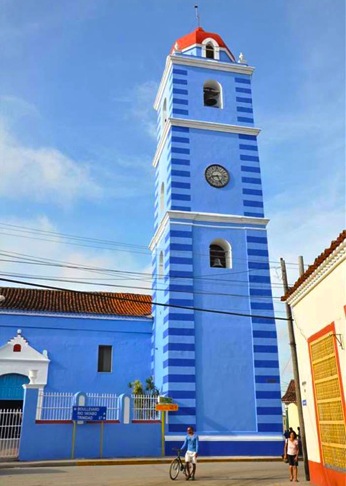 Iglesia Parroquial Mayor del Espiritu Santo (1680) baroque style, its steeple is visible from afar © vicente brito, granma •}• Town map : enlarge



Parque Serafin Sanchéz is right in center, and boasts a new renovated look after years (2012-2014) of remodeling (and finds of archeological stuff) © unk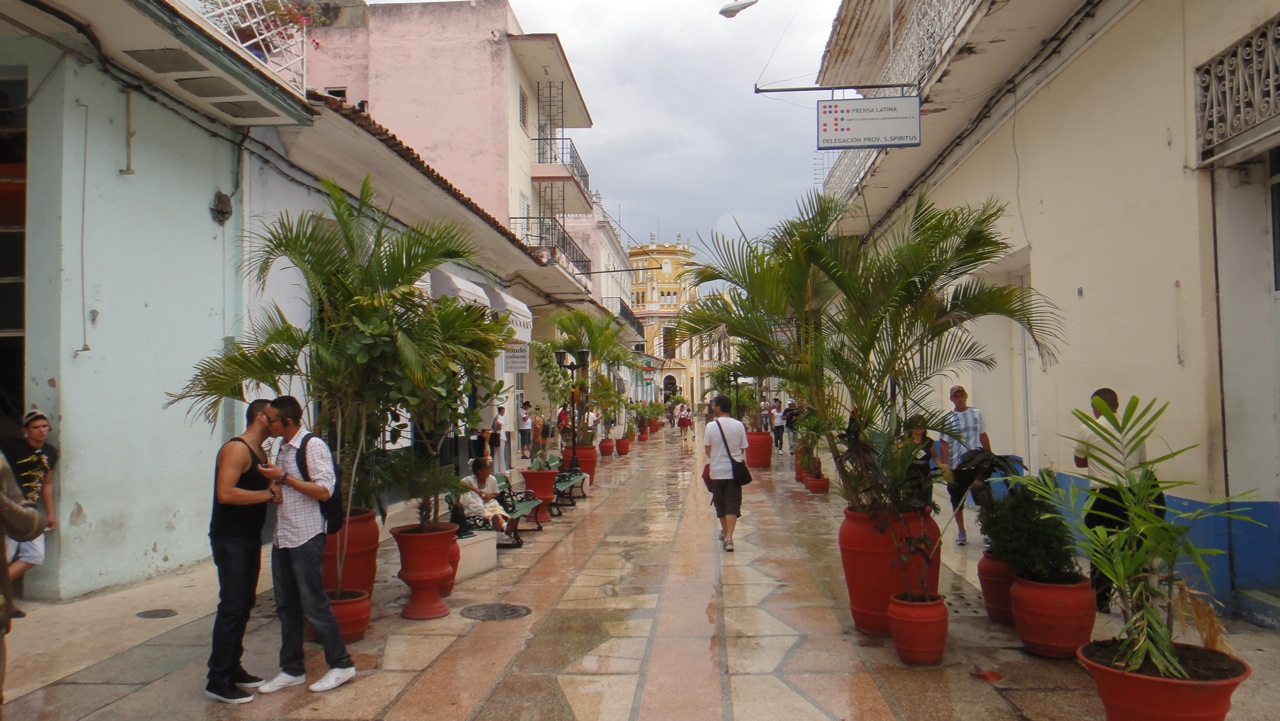 Guys kissing on the (pedestrian) street ? What is Cuba coming to ? © sogestour

BUS ARRIVALS IN SANCTI SPIRITUS
By Viazul : 01h15 from Santa Clara, Cardenas and Varadero; at 02h05 at 04h15 at 06h10 at 07h05 at 18h50 from Ciego, Camaguey, Las Tunas, Holguin, Bayamo and Santiago; at 09h15 from Trinidad; at 03h15 at 15h10 at 21h10 from Santa Clara, Jaguey and La Habana
OUR RECOMMENDATIONS
::: Make sure that in your first email or phone call you specify that you want to book a room in that particular casa and that you will reconfirm your booking on arrival in Cuba. Unless you only want a room in any house which may be of the same quality, not the specific casa you booked through photos on these websites ::: So as to not abandon expecting owners with empty rooms, reconfirm (or call ahead to cancel) your booking by phone as soon as you can after arriving in Cuba ::: Please write or phone a casa owner to cancel a booking. As late as it may seem, it allows them a chance to rebook. ::: Children under the age of 16 may share a bedroom with adults for free. Specify the child's age when booking. ::: Since October 2010, maximum bedroom capacity is not limited to two adults ::: Also, large casas are not limited to renting only two bedrooms per night. ::: At the end of the casa name, the V signals the casa was suggested by travelers or owners but not verified by the website staff. If you try it and like it, write us about it. ::: Unless otherwise mentioned, the average room rates and service prices are : 20-25cuc per bedroom per night [up to 40+ for 4 in a room]; breakfasts 3-5cuc, dinners 7-10cuc ::: Any casa particular anywhere in Cuba must have a hot water shower, otherwise it cannot have a permit to rent ::: Please share your Complaints, comments & suggestions webmaster [@]cubacasas.net