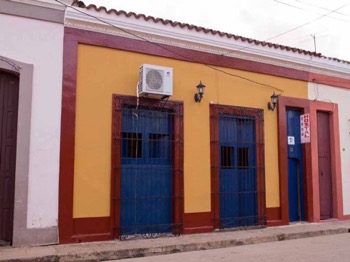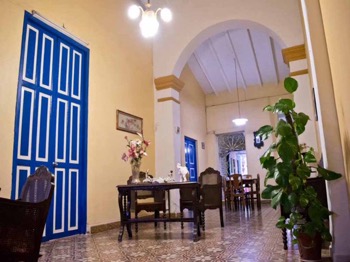 A large lounge welcomes travelers in the casa where the parents of Alexey - Medardo and Estelle live. The young couple lives on the other side of the park with their two small children and exchange the services of reception of the travelers.

Both bedrooms are located alongside the lounge which also serves as a dining room. Each room has two double beds. The front one with its high colonial ceiling boasts, in addition, a mezzanine with a single bed.

A large shower room with toilet and washbasin, a console air-conditioning (split), a reading lamp, a service table and bagage table complete the layout.

The large enclosed patio is located at the back with chairs and table behind the kitchen where Estelle prepares succulent dishes.

During a dinner in Jan 17, we tasted white bean soup with viandas, a salad and plato fuerte, tender and tasty pork, accompanied by white rice and beans : recalling the feast makes us salivate ; -)

Rates: 30cuc per room per night; breakfasts 5, evening meals 8-12cuc; laundry service, tourist information.