This tiny sea pueblo on the coast, north of Viñales is poor but no poorer than most, seemingly left on its own, hoping (esperando) for something, tourists or a great fishing day.

In verano, Cubans abound. Dipping their toes off the pier while waiting for the pescadores to return with the catch of the day, like pargo (sea bass), cubera, viajaiba, bonito (tuna) or albacora (white tuna). Officially, all fish is reserved for export and cannot be served in casas particulares. Officially.

A school or two, a clinic, a tiny shop selling recycled clothes for pennies, time has seemingly stopped here in the early Fifties.

Even with the best intentions, some travellers are inclined to let it be, because it feels like another island, so calm and soft, like a caressing breeze.

The only true protest, indeed.

Get here for only 1cuc from the Servi-Cupet gas station in Viñales : find the ride dispatcher (man in yellow) who will make you share a cab for that amount.
MAPS & LINKS

Getting here : North Coast map including Viñales
Map of Pinar province with tourist spots
Robin Thom's lovely pictures of the town and Teresa's
Map of area with Cayos Ines de Soto
North Coast and Cordillera de Guaniguanico
Text (Spanish) on Ines de Soto treasure
Daily exchange rates
All things natural in the province of Pinar del Rio
DISTANCES
Cayo Jutias, 35
Cayo Levisa, 42
La Habana, via Pinar and the highway, 192
La Fe, 145
La Palma, 28
Minas de Matahambre, 51
Pinar del Rio, 51
Santa Lucia, 25
Soroa, 151
Viñales, 24



SEE.KNOW.DO
The sea, the coral banks, great for scuba diving around the keys which dot the azure-colored water, notably the cayos
Ines de Soto
(
Arrecifes Colorados
) where in 1992, divers from Carisub found artefacts and gold coins which can be seen in La Habana at the
Fortaleza de San Salvador de La Punta
. The Ines de Soto galeon sank in 1572
•
Visit the first "built from scratch" community established at the start of the Revolucion by Fidel. The road to get there was 50 years old before it got new pavement recently. Comunidad
El Rosario
is the name and one gets there on bike on the newly-paved road (June 2014);
Laguna de Piedra
and
Republica de Chile
are two other tiny settlements worth the detour in the area.

PALADARS
Wendy
, calle Quintin Banderas 10, Tel. (48) 79-38-93 •
Teresa del Mar
, calle quarta A # 7, near calle 3a. Tel. (48) 79-37-03 •
Dos Palmas
Calle 13 de Marzo No 19. Tel. (48) 79-38-65
PLAYAS
Playa de Pajarito
, 20 km away.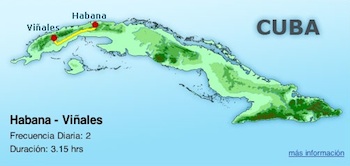 Twice per day, a Viazul bus goes from Havana and back - via Pinar del Rio. Call it Ruta 10 (Roota Diez) — Click for sked on Viazul site, Fred. Once in Viñales, go to the Servi-Cupet gas station, look for the man in yellow (ride dispatcher), he'll point you to a shared cab where you should not pay more than 1cuc pp to get here, dear.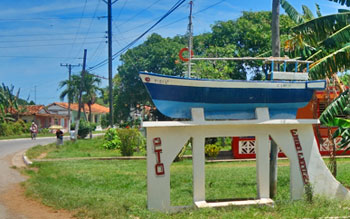 Fishing village, no doubt about it © sogestour •|• Studebaker on Frank Pais © sogestour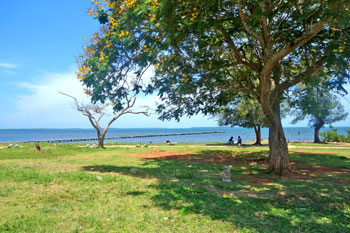 Conversation in the shade — ENLARGE © sogestour •|• Ciclista sola on the wide and always empty main drag, Frank Pais © sogestour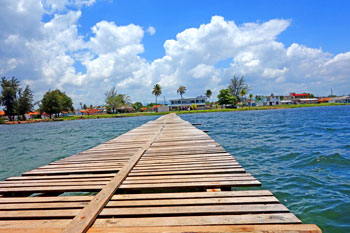 Getting to the end of the dock means knowing how to avoid the space between the planks but the reward is worth it : let your feet hang or just dive into the moment © sogestour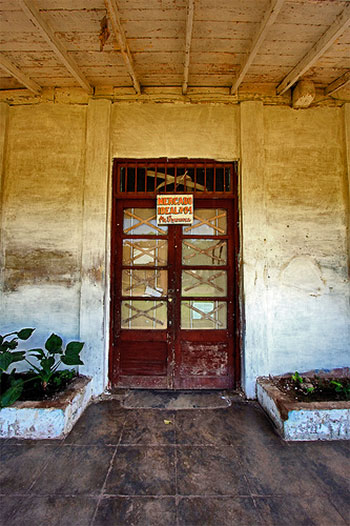 Mercado Ideal #1 © robin thom photography



Unforgettable scenery between Vinales and the coast - ENLARGE © sogestour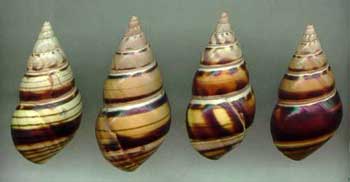 Outstanding shells from nearby Playuelas, El Corralillo

OUR RECOMMENDATIONS
::: Make sure that in your first email or phone call you specify that you want to book a room in that particular casa and that you will reconfirm your booking on arrival in Cuba. Unless you only want a room in any house which may be of the same quality, not the specific casa you booked through photos on these websites ::: So as to not abandon expecting owners with empty rooms, reconfirm (or call ahead to cancel) your booking by phone as soon as you can after arriving in Cuba ::: Please write or phone a casa owner to cancel a booking. As late as it may seem, it allows them a chance to rebook. ::: Children under the age of 16 may share a bedroom with adults for free. Specify the child's age when booking. ::: Since October 2010, maximum bedroom capacity is not limited to two adults ::: Also, large casas are not limited to renting only two bedrooms per night. ::: At the end of the casa name, the V signals the casa was suggested by travelers or owners but not verified by the website staff. If you try it and like it, write us about it. ::: Unless otherwise mentioned, the average room rates and service prices are : 20-25cuc per bedroom per night [up to 40+ for 4 in a room]; breakfasts 3-5cuc, dinners 7-10cuc. ::: Any casa particular anywhere in Cuba must have a hot water shower, otherwise it cannot have a permit to rent ::: Please share your Complaints, comments & suggestions webmaster [@]cubacasas.net


TRONCOS VIEJOS
Two aircon bedrooms, shared bathroom
Calle Frank Pais # 86 Tél. (48) 79-38-78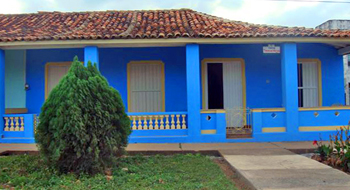 TERESA + PALADAR
Three aircon bedrooms, private ensuites
Calle 4 A, No. 7, near 3a. Turn left at Policlinico. Tél. (48) 79-38-39