VILLA CRISTAL
Jorge Martinez Gonzalez y spouse Nancy
Calle Fomento # 63 (upstairs), entre Linea y Carretera de Gibara, in reparto (burrough) Zayas walking distance to the famous lookout, the Mirador de Holguin and the Loma de la Cruz (Hill of the Cross). Tel. (24) 42-28-41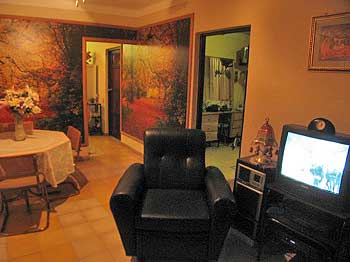 This well laid-out upstairs casa is located on a quiet street offers two air-conditioned bedrooms, each with its own bathroom, tv, fridge, cd player.

One is on the main floor, the other upstairs with its own balcony and level access to the terrace with lawn chairs, shade and view of the Loma de la Cruz.

The main floor bedroom is accessed by the living room with its tb, dvd player and a balcony onto the street. Meal service, kitchen, laundry service, garage.

Rates : 20 or 25cuc depending on season, for each bedroom per night .