The playas del Este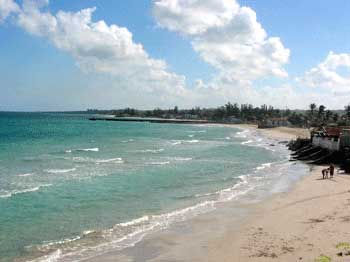 Playa Veneciana
in Guanabo, only steps from Sol-Mar and Nancy Pujol's casas © sogestour
•[•
In summer, the
three main local beaches
"of the East" are packed with Habaneros fleeing the torrid city heat and humidity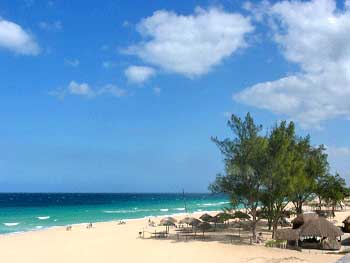 Playa El Mégano
in Santa Maria del Mar — Map
here
[
click
]
© sogestour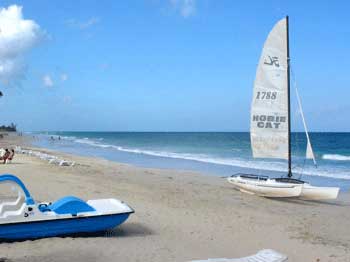 Playa Boca Ciega
, between Guanabo and Santa Maria © sogestour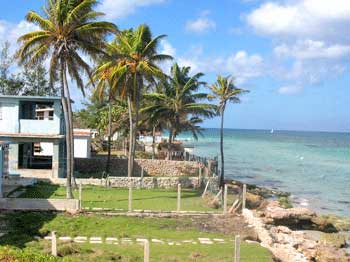 Casa Pujol
's patio has palm trees and is right on the water. © sogestour
See this map.
It's under the last "E" (1RA) of the words Playas del Este © sogestour
From Valenciana beach, a Cuban offers rides on a
Hobie Cat
. On this day, it seemed overloaded riding a timid wind forecasting a long slow day ... © sogestour •
]
• One of the numerous casas rented by Islazul, some in quite
deserted parts
(in winter) of Guanabo : check a map before renting
; )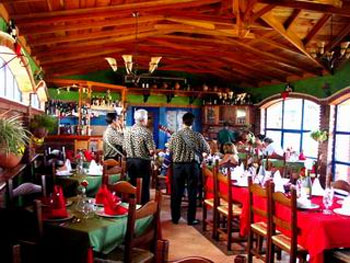 Installed in the Boca Ciega area,
El Cubano
is a multi dining room complex with different food fares, some in rooms with cloth table wear and musicians, kinda classy with honest food © unk
EVENINGS
:::
Cabaret Guanimar, calle 468, angle 5 : outdoor shows at 23h 8-10cuc pp
:::
Teatro Avenida, avenida 5 e/476 y 478 : ppopular in summer while in winter, it's teatro por niños
:::
Cine Guanabo, calle 480 / ave 5 : showings starting at 17h3
:::
According to Lonely Planet, the local gay spot (Havana's gay community beach meeting place) is a beach bar named La Paté at calle 1 near Mi Cayito at the western end of Santa Maria del Mar.
FYEYE
:::
The Islazul chain rents dozens of casas in the area. In summer, these are full of Habana familias; in winter some tourists may find these too basic (although very cheap), too quiet (Veneciana and Brisas de Mar are truly deserted) kinda humid and even cold when a windy "frente frio" hits; list
here
; photos
here
; tel (7) 832-0939 in La Habana
:::
Tourist info
Infotur
:::
International Clinic on Avenida de Las Terrazas 36 in Santa Maria del Mar Tel (7) 796-1819
GUANABO HOTELS
:::
Hotel Gran Via
•
Hotel Miramar
:::
Villa Playa Hermosa
SANTA MARIA HOTELS :::
Complejo Atlantico Las Terrazas