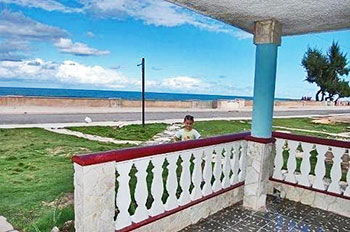 In a well-decorated seaside casa, the couple rents one bedroom with a ventilator (no a-c) its private bathroom.

Ranchon/open dining area (meals are served), rooftop terrace with open views of the sea; garage parking for rental car.

" This one is new - the friendly couple have been gently upgrading their small house. It's right on the very edge of town, the sea's just across the road. Spectacular views from the roof balcony.

" Food is gorgeous and plentiful and excellent value for money—served in a delightful small sitting area." from iExplore May 06.