This is a most remarkable colonial built in 1876. In its heyday, the property occupied twice the land space as one can see from the roof. Vitral is glass-stained window in Spanish : some vitrals, the largest, from Murano (Venice) decorated the dining room but was blown to pieces when hurricane Ike hit Gibara in 2008.

Nancy was a longtime local patron of the arts and teacher/caretaker of disabled children. Her family has owned this casa since 1902, one of the most impressive in the country.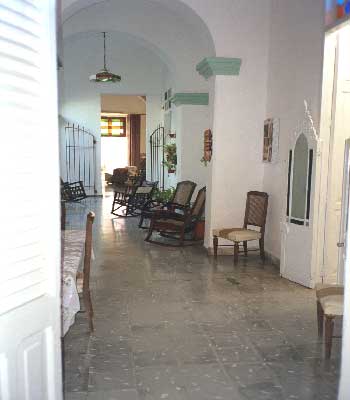 Zenaida ("Ninita") is now in charge of the casa, as Nancy is not as active as before and often visits her children in Florida.

• Off the street, a large double living room with lots of sofas, a tv, dvd, video.

• Arched hallway (the only mediopunto in Cuba), with interior/exterior patio on which opens the one and only bedroom for rent.

• Two dining rooms, and in the back, facing the kitchen (with its campana), another patio with a well in the centre. Large two-level terrace on the roof.

• One only air conditioned bedroom, with a private ensuite bathroom; one double and one single bed. Its ceiling is 8 meters high (rarissimo) with a vasista for ventilation.

• Rates : 20-25cuc low/high season; breakfasts 3cuc; no other meal service available. Orientation service, laundry, phone, carpark (1cuc) around the corner.