HOUSE LA CHINA
Misleydi Fuentes Pérez y Janet Guevara Fuentes y Susana Guevara Fuentes

Calle Padre Valencia 57, entre San Ramon y Lugareno,
facing Teatro principal
(Ballet, symphonic music, cinema). (parallel) or the 1800 on
Plaza San Juan de Dios
. TÚl. (32) 28-3028, cel. Janet 53 84 75 79 cel. Susana 53 38 64 39.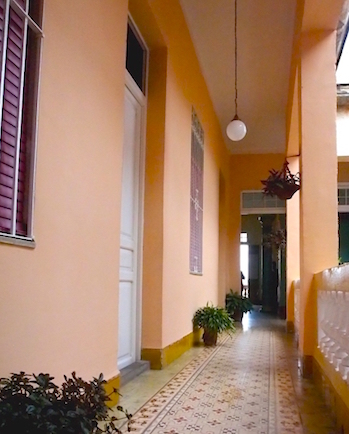 Misleydis moved - end of 2015 - to a new location facing the city's prestigious Teatro principal

She rents two aircon bedrooms, each with ensuite; the new casa is larger, has a double living room, dining area, terrace and one of the bedrooms has its own front balcony overlooking the plaza.

Misleydis has tremendous experience renting and preparing food as she has helped in a couple of casas elsewhere in the town center for more than 15 years. Rooftop offers a 360-degree view of downtown, lovely at sunset or during the hourly churchbell ringing of Camaguey's famous catholic churches.

She can organize salsa, percussion and guitar lessons as well as massage, pedicure and manicure sessions.
Rates : 20-25cuc per night per bedroom. Breakfasts (full american) 5cuc; meals 6-8cuc and more; lunches available on request.

The previous House La China was on calle Popular.