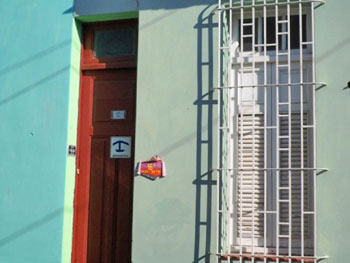 Evelin has been renting since the beginning of the century offering a spacious bedroom with windows that allow natural ventilation and more recently a second bedroom, each can accommodate up to 3 people; each with private bathroom, air conditioning, TV, refrigerator, table fan and closet.

Breakfast included in room rate — in low season. Discounts for longer than 15 days. Coordination of taxis and tour services.
Rates : 20-25cuc per night for room; desayunos 3cuc; dinners 5-10cuc.

Services casa offers : Dinner, Breakfast, Laundry.
Near of Cubana offices, Cadeca money exchange, Nauta Internet offices and other services. Walking distance to the historical center with museums, theatres, galleries and workshops and churches as well as galeries of local artists, the Casa de la Trova, restaurants and shops of articles of Cuban art.