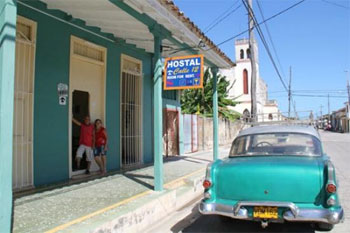 The couple has been renting since 2009 in their casa colonial style renovated in 1933, located in the historic center.

The hostel is also a paladar (private restaurant) since autumn 2014 and yet still rents three bed rooms each with ensuite bathrooms, double beds — plus a single if necessary.
Mini bar service, access to the central courtyard decorated with ornamental plants.
Gastronomic services offered (of course, this is a restaurant that occupies the entire space of the living room and dining room) with a variety of choices; specialties of the house include seafood.
Rates : 25-30cuc per bedroom per night; breakfasts 3-5, dinners 8-15.